We have been breeding and exhibiting this delightful breed since 1989. Initially attracted to the cavalier by their compact size, melting expression and wonderful friendly temperament.
Our breeding programme was formed from a Leogem bitch (Silver Gemini Lady at Pascavale), who we bred to Finnish Champion Craigowl Hoodunit resulting in Pascavale Matinee Kiss. She in turn was bred to Champion Homerbrent Festival giving us Pascavale Lulu JW.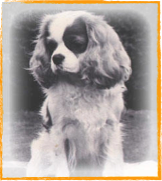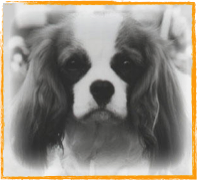 Lulu set us up with the line we have today blessing us not only with her own beauty and breed type but her ability to pass onto her progeny. This included our first champion, Champion Pascavale Louis who was sired by Champion Telvara Karbon Kopy. We repeated the mating giving us Pascavale Rio who in turn was mated to Champion Lorankas Celebration and this time gave us Champion Pascavale Ryan. Lulu was also mated to Champion Chantiz Indiana Spring and again another quality litter; three boys went on to succeed AKC Champion Pascavale Rafael grand sire of Pinecrest Orchard Hill Rock the Boat, International Champion Pascavale Designed the number nine top Swedish dog in all breeds and Pascavale Spencer top stud dog (Our Dogs) here in the UK. Spencer sired Champion Britannia of Pascavale who gained her title at the tender age of 13 months a record at the time.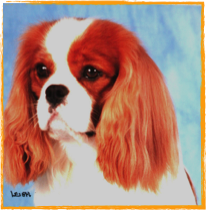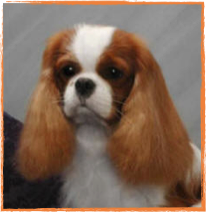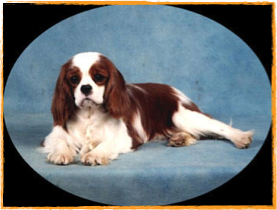 Ch Pascavale Louis AKC Ch Pascavale Ryan Ch Britannia of Pascavale
A new chapter enfolded when we bred Britannia to Champion Tameline Northern Dancer the resulting litter included a special little dog called Teddy, Champion Pascavale Enchanted he epitomised what we were looking for, small, pretty, glamorous with the sweetest of temprements.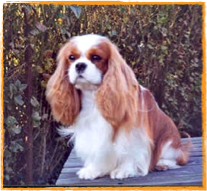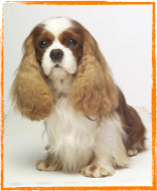 Teddy Champion Pascavale Enchanted
Our dogs have always been available at open stud and have indeed produced well for other cavalier kennels which is very satisfying. One particular sire Champion Pascavale Enchanted has the most notable accolades which include top stud dog in the UK for three consecutive years, where he sired record breaking progeny in the UK and in Europe. He then moved to the US where again he has been influential in many kennel breeding programmes. He has sired over twenty CKCS-USA champions and also best in show at the AKC National cavalier speciality. This has now resulted in him being top stud dog in the USA for three consecutive years also. We are very proud of this sweet dog and the considerable contribution he has made to the breed.
We used Champion Craigowl Billy Elliott on an Enchanted and Champion Winnie at Pascavale daughter, Pascavale Loretta she produced two cracking brothers Champion Pascavale Jamie and AKC Champion Pascavale Bruce. Jamie had a successful show career both here and in the US. He has also been a useful sire for us producing brothers Champion Pascavale Phoenix and AKC Champion Pascavale Jai. Jamie has also produced many more champions on both sides of the pond for other kennels; his tremendous sweet nature is seen in so many of his children and a great testament to this dearest of dogs.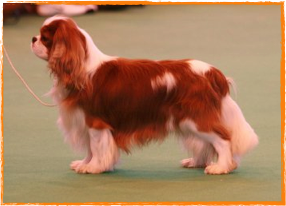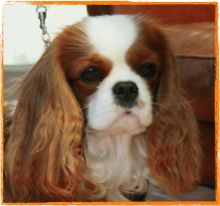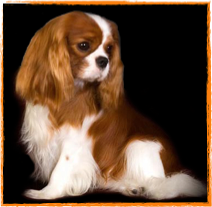 Champion Pascavale Jamie Champion Pascavale Phoenix Champion Pascavale Jai
Over the years we have been blessed with many achievements including crowning 12 British champions and breeding scores of overseas champions. The kennel has won best of breed at Crufts four times. 2004 with Champion Pascavale Ryan, 2011 with Champion Pascavale Phoenix, 2013 with Champion Pascavale Bailey and most recently in 2014 with Am Champion Bentwood Chloe of Forestcreek wining at this world renowned show makes us very proud. We would like to thank all the judges over the years that have liked our dogs and given them the accolades they have received it is really appreciated.
The extended Pascavale team involves the Brookhaven sisters Brenda Martz and Paula Ayers. More recently the close association with Kevin Cline of Forrest Creek, his involvement has been supportive and enabling which is much appreciated. Aum Puenchalard is an important member of the new era at Pascavale. His daily involvement with the dogs is a contributing factor to their success. It was fitting to see Aum handle Bailey through his show career concluding at Crufts where Aum stepped Bailey out into the televised main ring.
We have both been judging at championship show level for many years. This is an aspect of being involved with the breed we enjoy a lot. As well as judging in the UK we have judged all over the cavalier world judging in over twelve countries.
Our involvement has included sitting on cavalier club committees including both serving on the national Cavalier King Charles Spaniel club.
We hope to continue and fulfil further in the breed we love. There is no better companion than the Cavalier King Charles Spaniel.
Michael Levy & Mark Sedgwick